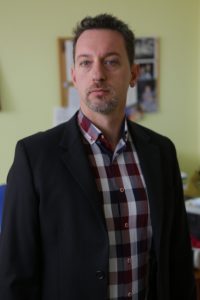 Dr. Vaeld Zhezha is a lecturer in the "Fastip" Faculty, at "Aleksandër Moisiu",. University of Durrës. He holds degrees from the Academy of Economic Studies, Bucharest, Rumania (BSc Economics), Administrative scienties, Univesita Fabrefacta Optime_Tirana Abania (MSc Economics) and  "Politics and Governance in Europe ", obtained from the European Studies Institute of the University of Tirana. (PhD Economics).Previously he worked as counsellor for the minister  at Enviromental
Dr. Zhezha is co-author of a textbook "The Right to Competition in the European Union and Albania", Tirana 2016. He is also the author / co-author of many publications in journals and referrals / co-referrals in many regional, national and international conferences.
His publications, among others, include: "Competition Policy in Albania", presented at "International Conference on Social Sciences", 2015, near Süleyman Şah University, Istanbul, Turkey;"Market regulation in Albania from the first years of transition to today", presented at "Second Annual Conference of Balkan Sociological Forums", 2012, in Sofia, Bulgaria; "Sources of Competition Law in the European Union", 2014, presented at the international conference "State, Society, Law: Regional Cooperation" – "The State, Society and Law: Regional Operation", University "ALEKSANDRA MOISIU" Durres; "An Overview on Control of Concentrations in Albania", Italian Law & Rights Journal, ISSN 1127-8579, Italy; "The Illyrius International Review", ISSN 2225-2894, "Sapienza" University of Rome, Italy, "A general view on the new document on competition policy drafted by the Albanian competition authority;"Analysis of some aspects of law and competition policy", Albanian Social Economic Magazine.
Contact: vzhezha@fastip.edu.al